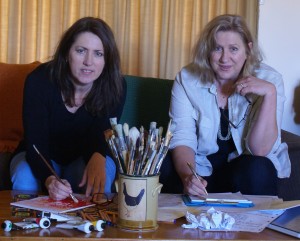 Sense of Wonder is a exciting collaboration between sisters Artist Robyn Dower and Writer/Poet Kay Gorring where they bring a story to life in the form of an art installation. By recreating a house, it tells a relatable story by the clever use of clues in the way of scrapbooks, letters and etc. It introduces the healing and uplifting nature that the creative arts can provide. It is designed to cater for both literary and visual audiences of all age groups and people are free to experience it as they wish. As a added bonus to the exhibition there are community activities provided where participants can 'have fun' and at the same time contribute to the art exhibition. These are in the form of poetry, stickman drawings, colouring in activities, free drawing, doodles, magnet wall and detective questions. * Please note-  activities are subject to the availablity of space at venue.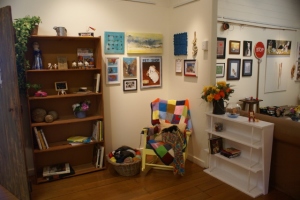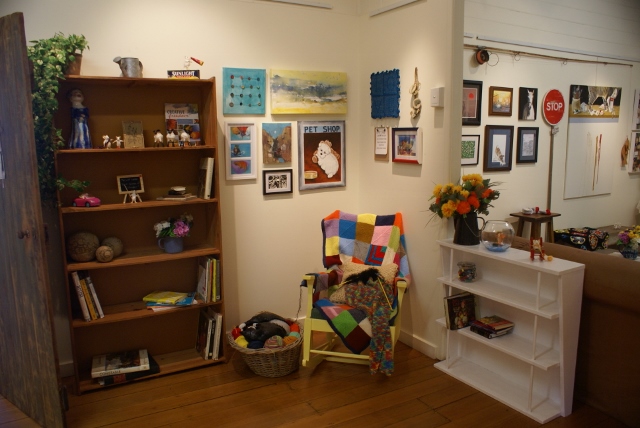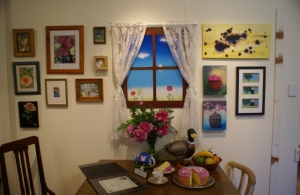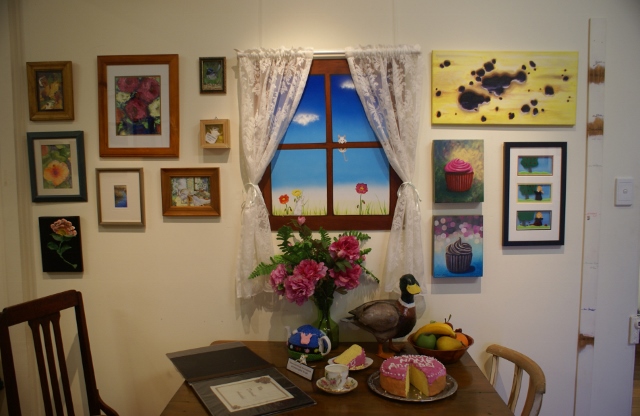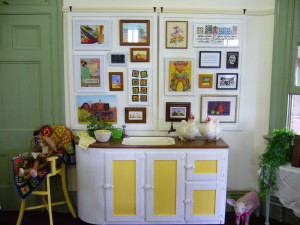 After the huge success of its opening at Wondai Regional Art Gallery 'Sense of Wonder' will now be traveling to following places:
Maryborough Customs House Residence, Wharf Street, Maryborough currently until mid January 2016 Completed
Biloela Art Gallery, 62 Valentine Plains Road, Biloela. From the 6th of April 2016 to the end of May 2016 Completed
Bundaberg Regional Art Gallery, 1 Barolin Street, Bundaberg. From the 19th of July until the 18th of September 2016 Completed

Gympie Regional Art Gallery, Nash Street, Gympie. 23rd November 2016 until the 21st of January 2017 Completed
Chinchilla- Lapunyah Gallery Heeney Street, Chinchilla. From the 25th of March- 3rd of May 2017 Completed
Tambo- Grasslands Gallery. From 1st of August – 12th of September.
Some of the many comments so far include:
"Amazing!!! Loved it, Loved it, Loved it! The Kids (including us) had a wonderful time.Thankyou for your efforts, and a great experience."
" Really lovely expression of the written word into a visual expression. The two children loved all the hidden animals. They enjoyed the drawing afterwards, in fact, very hard to get them to leave."
"Truly breathtaking. It takes you into a whole new world."
"The exhibition is an inspiration and all teachers could use this for awesome art and language lessons of all ages. Truly talented."
"Thankyou for a WONDERful experience."
Artist: ROBYN DOWER
392 Tingoora-Chelmsford Rd Tingoora Qld 4608
Home Phone: 07 41685577 Mobile: 0427 592 074
Email: rpdower@datawave.net.au
Website: www.robyndowerdesigns.com.au
Summary Profile:
Robyn is an artist from the South Burnett Region of Qld. Australia. Living on a farm inspires a lot of her subject matter. Like most artists, Robyn has a love of variety and this shows in her work. As well as painting, she also does sculptural pieces from found objects and in paper mache'. For the past several years Robyn has concentrated on her art full time.
" I am very fortunate to be able to do something that I truly am passionate about. I love that there are no hard and fast rules and that you are always free to explore new possibilities."
Artistic Achievements
• Winner of Acquisitive-South Burnett Regional Council Oct Art Competition-2015
• Winner of Acquisitive for The Light Horsemen- Kingaroy Art Gallery- 2015
• 1st Prize in the Wondai Regional Art Gallery's June Acquisitive 2010
• Acceptance into the Flying Arts Regional Five Senses Art Exhibition held in Brisbane, February 2009
• Award for Excellence For Colour Design from the International School of Colour & Design
• Award for Excellence For Creativity in Colour & Design from the International School of Colour & Design
• Other Prizes in Wondai Regional Art Gallery competitions, including sculpture and pastel.
Solo Exhibitions
• 2013 June-Kingaroy Art Gallery "My Country Side"
• 2012 Wondai Regional Art Gallery "Distracted"
• 2011 Wondai Regional Art Gallery "Wonder" (installation)
• 2009 Wondai Regional Art Gallery "Art, Heart & a Little Imagination"
Group Exhibitions
• 2013 August- Nimue Art Gallery, Kingaroy "Inside Out & Back to Front"
• 2013 Traveling Exhibition, Gympie-Hervey Bay-Wondai Galleries "Eclecticism"
• 2012 Harbourside Gallery (Tewantin) Exhibition of 2D&3D Art
• 2011 Nimue Art Gallery "Rustic, Rural and Recollections"
• 2008 Gympie Regional Art Gallery "Work In Progress"
• 2007 Wondai Regional Art Gallery "Melting Pot"
• 2005 Kingaroy Art Gallery "Among Friends"
Courses Completed
• Diploma in Creative Visual Arts from International School of Colour & Design
• Certificate IV in Design from International School of Colour & Design
• Certificate In Interior Decorating With Distinction from Stott's Correspondence College
• Regularly attends workshops to develop skill levels
Other Information
• Member of Flying arts Alliance
• A long- time volunteer at The Wondai Regional Art Gallery
• Member of the RADF committee for the South Burnett Regional Council
Writer/Poet: KAY GORRING
28 Emerson Dr. Morayfield.4506.
Ph: (07) 54985885 Mobile: 0416050759
Email: gorring@iinet.net.au
I have only been writing poetry for the past three years and although I have had no formal training I am learning and improving on my skills all the time. During that time I have self-published a couple of small poetry books. I also enjoy art and have held my own Art exhibition 'Bittersweet' although writing is my great love. Recently I have been collaborating on an Art exhibition 'A Sense of Wonder' linking the visual arts with the written word.
Publications
• 'A Sense of Wonder' extended poem (Story in rhyme)
• 'One Journey'- A reflection of Breast Cancer expressed in poetry
• 'Bittersweet'- A collection of poetry
Art Exhibitions
• 2014 'A Sense of Wonder' – Wondai Regional Art Gallery (A collaboration with artist Robyn Dower)
• 2012 'Bittersweet'- Wondai Regional Art Gallery (A combination of art and poetry)
Groups
• Member of North Pine Poets Group
• Member of ABPA (Australian Bush Poets Association)
• Poets on the Park at Shorncliffe
• 'Versatility' poets group
Competitions
• 2015 Overall Winner of the Ipswich Poetry Feast and 1st place- Open Bush Poet section
• 2015 Bundy Bush Poetry Muster Queensland championships – Bundaberg Bush Poets – second (Intermediate) for performance poetry.
• 2015 Placed 9th in the Bush Lantern written competition
• 2014 Camp Oven Festival – North Pine Poets – Third (Intermediate) for performance poetry
• 2013 Camp Oven Festival – North Pine Poets – Winner (Novice) for performance poetry
Performances
• 26.08.15 – unveiling ceremony of Anzac Memorial at Deception Bay
• 25.07.15 and 13.06.15 St Martins Nursing Home, Taigum
• 26.04.15 –'Letters from the Front' performance with 'Versatility' at Sandgate
• under the auspices of the Sandgate RSL sub-branch
• 25.4.15 – 100 year commemoration of Anzac at Sandgate with 'Versatility' under auspices of Sandgate RSL sub-branch